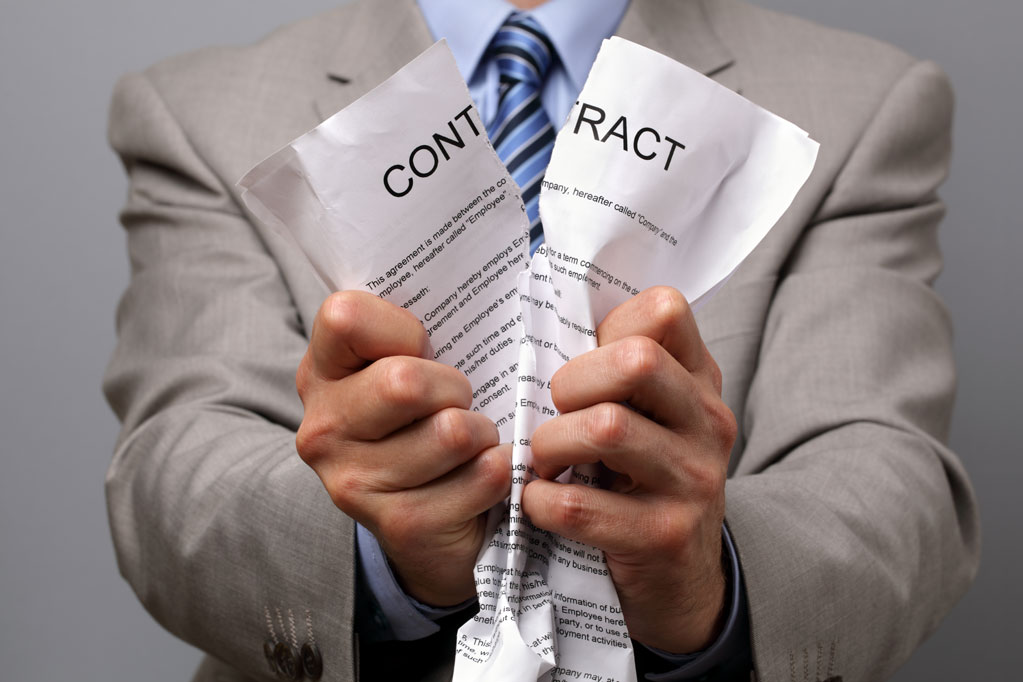 Termination for Convenience
Commercial Items Contracts
What are commercial items? "Commercial items" are items that are sold to the general public or that can be easily modified to meet federal requirements. Services can also be commercial items if they are commercially offered using catalog pricing.
What is a commercial item contract, and why is it used? FAR Part 12 was written so the federal government can purchase commercial items using procedures similar to standard commercial practices. The idea is to have a streamlined procedure that looks and feels more like a standard commercial purchase than a government purchase. There are fewer formalities required, and the contract is easier to award and administer. Commercial item contracting is usually preferred by commercial vendors and makes life easier for contracting officers, so awarding a commercial item contract is a win-­win.
Partial or Complete Termination of Commercial Item Contracts
Commercial contracts cannot be unilaterally terminated once they are signed, so can the government terminate a commercial item contract? Unlike standard commercial contracts the government always has the right to fully or partially terminate contracts, even if the contract does not contain a termination clause. There is no Changes clause in commercial item contracts, so reductions in volume or scope or other changes are often made by a partial termination for convenience.
What is the difference between termination settlement of a commercial item contract and termination settlement of a standard government contract? In both cases the overall purpose of the termination for convenience settlement is to fairly compensate the contractor. However, a commercial item contract provides a different recovery formula than a standard government termination. For commercial items the contractor is paid a percentage of the contract price reflecting the percentage of the work performed prior to the notice of termination, plus reasonable charges that resulted from the termination. Under standard government contract terminations the government pays a contractor its incurred costs plus settlement costs. Thus, commercial items termination recovery is based on a percentage of the contract price, not the costs incurred, plus reasonable settlement charges. The good news is that can result in higher recovery under commercial item terminations.
What does a percentage of the contract price reflecting the percentage of work performed prior to the termination mean? It is different for every situation, which is why you should get professional help to help assemble the termination settlement proposal. There are many ways to calculate the percentage, but the goal is to claim for all work performed to get full recovery.
What are reasonable charges that resulted from the termination? The government will pay reasonable costs for legal and accounting or other professional help to assemble and justify the termination settlement proposal. These are direct costs under the settlement and are not considered indirect costs. You are directly reimbursed for the costs of professional help to put together a termination settlement.
Can I recover indirects and profit? Current case law provides for full indirects and profit to be applied to terminated work that was performed. Indirects, but no profit, may be applied to termination costs such as legal or accounting fees. However, this is a rapidly evolving area of the law. There is a good argument for profit being applied to termination costs, and profit on settlement costs may be allowed in future cases.
Additional Information
If you are facing a full or partial contract termination, contact the professionals at Williamson Law Group at 301 788-­8198, or e-­mail Scott Williamson, at srw@williamsonlawgroup.com. This information is intended to keep readers current on developments in federal government contract matters and is not intended to be legal advice. Please contact Williamson Law Group for legal advice regarding your particular case.